Deutsche Version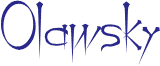 This page wasn't updated for quite a long time...
Some information is obsolete, some links won't work.
I will try to translate the German page within the
next weeks.

But please be patient...


---
Historical sources
The first known carrier of this name was Georgius Johannis Olawsky. In the book series "Slownik staropolskich nazw osobowych" (vol. 4, N-R) [author: Witold Taszycki, 1974-76] it says:

Georgius Johannis Olawsky de Cracovia 1401
AS I s. 16.


(details)


Another old indication of origin originates from "Johann Siebmachers Großem Wappenbuch" (Johann Siebmacher's large book on coat of arms). There is published a picture of a coat of arms belonging to a family Olawski. In this book it says:



Land aristocracy of Polish origin...;
former residence in Golkowe (Co. Militsch).

(Golkowe is close to Militsch in Lower Silesia)

Unfortunately neither a year is mentioned, nor a first name.


My family

The earliest date, which appears in connection with an Olawsky in my family, is 12 Sep 1802. On that day my ggg-grandparents Andreas Olawsky and Juliana nee Bohm married in Guttentag. Nearly ten years later their son Johann Anton Olawsky was born at this place. Juliana Bohm originated from Guttentag; whether Andreas, too, came from there, is unknown.

Later (probably around 1840) Johann Anton Olawsky went to Königshütte, where his sons Johann Franz (*1847) and Eduard Mathias (*1856) were born. These went to Konstadt and Peiskretscham respectively. (More details about this can be found in "short family history" (only in German)). Eduard Mathias Olawsky was my great-grandfather, Johann Franz Olawsky was the gg-grandfather of Knut Olawsky, whom I had written an email a few months ago. After comparison of our "Stammbücher" we found out that we are distant cousins.


Further Olawskys

There are further Olawskys in Germany and the United States, whose family trees do not go back as far as mine:
In 1804/05 Eduard Konrad Olawsky was born in Brieg (approx. 15 km from Ohlau). [If you regard the date of birth, you could assume that Eduard Konrad was a brother of my gg-grandfather Johann Anton. However my ggg-grandfather Andreas Olawsky as a shoemaker, so that he hardly possessed the means to finance Eduard humanistic education. (Later Eduard Konrad was a teacher for Latin and German.) Additionally Brieg is nearly 70 km away from Guttentag]
From 1831 to 1874 Eduard Konrad Olawsky lived in Lissa. Then he went to Guben, where he died in 1879. In Lissa Hugo Olawsky (probably Eduard's son) finished school in 1858. He later went to Bromberg. A Gustav Olawski published one of Eduard's books in 1849. The publishing house was in Trzemeszno.


In the protestant marriage register of Steinkirche (Co. Strehlen) the following entry is found on 3 October 1858:

... Virgin Anna Rosina Olawsky,
2nd daughter of the late Georg Olawsky,
former "Stellenbesitzer" in Deutsch-Steine...


Deutsch-Steine is about 3 km away from Ohlau.


The Olawskys in South Dakota know their family tree up to Karl Olawsky (son of W. (William?) and Rosina Olawsky) and Susanna nee Salzborn, who emigrated 1886 directly after their wedding from Peisterwitz/Grüntanne to Sioux Falls (SD). More or less regularly I exchange information with Mike Olawsky and Donald A. Nelson from Sioux Falls (SD). Don is not a descendant of Karl Olawsky, but he has a family tree with (almost) all descendants of Karl Olawsky and Susanna nee Salzborn. (Peisterwitz and Grüntanne are some 10 km away from Ohlau.)


In Ohlau Hermann Johann Wilhelm Olawsky (*1872 +1926) was a Railway Manager, whose descendants I am in close contact with.

Common relatives could not be found here - not yet!


Further Olawskis

There are also different Olawskis in Poland and the United States (there particularly in New Jersey):

Some the Olawskis in NJ can retrace their family tree to two brothers (Michael and William/Wilhelm), who came 1912 from Latvia to America.


In addition, there were some Olawskis in the USA, who were born before 1912. So these were no descendants of these two Latvian brothers:


Ann Olawski, daughter of Michael and Sophia Olawski, was born in New York City on 22 May 1910. She had a sister called Mary.

Then there was a Stanislaw Olawski (*10 Jan 1892 + Jun 1964). His wife was Anastasia Olawski (*14 November 1899 +14 Dezember 1976). In her obituary it says:

Born in Poland, came to Harrison many years ago.

It is unknown, whether Stanislaw, too, came from Poland.




Here is an interesting parallel: Among the ancestors of the family Olawski in Krakau is likewise a Stanislaw Olawski, who is younger than the Stanislaw in NJ though. Since however three uncles of this "Polish" Stanislaw emigrated, I assume that one was also called Stanislaw - like his uncle who went to New Jersey. (The family Olawski in Krakau means however that the three brothers emigrated to Germany, France, the Netherlands and/or Australia and that further their ancestors originally come from Königsberg (East Prussia)).


Other spellings?

Apart from the two spellings (Olawsky and Olawski) which alternated also within my family, there are also three entries under "Olawske" and five under "Ohlawske" in the German telephone book. I was told that the name was originally written "Ohlawsky" [oldest known carrier of the name was Gottfried Johann Ohlawsky (*24 Aug 1810 in Jaetzdorf, only 3 km away from Ohlau (!))]; in 1878 the name appeared as "Ohlawske" and finally in 1884 as "Olawske" ("Ohlawsky" does not appear in the telephone book).

The question arising here is whether "Ohlawsky"originally comes from"Olawsky".



---
There is still much that is unknown. Some assumptions must be proved by documents (or also disproved).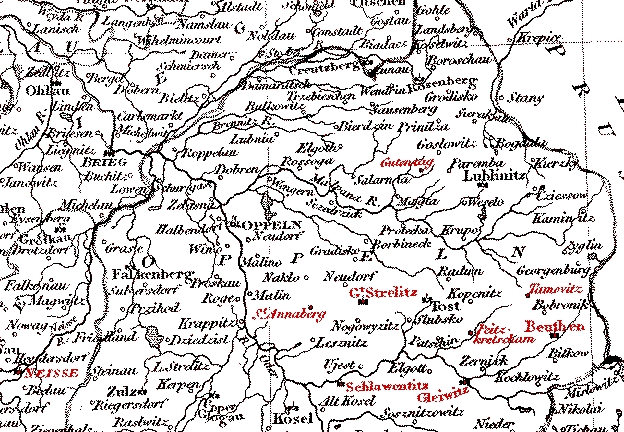 ---
---
Links:
---
last changes: 12. July 2003 Gregor Olawsky